Indonesia's Raja Ampat: balancing tourism with protecting the sea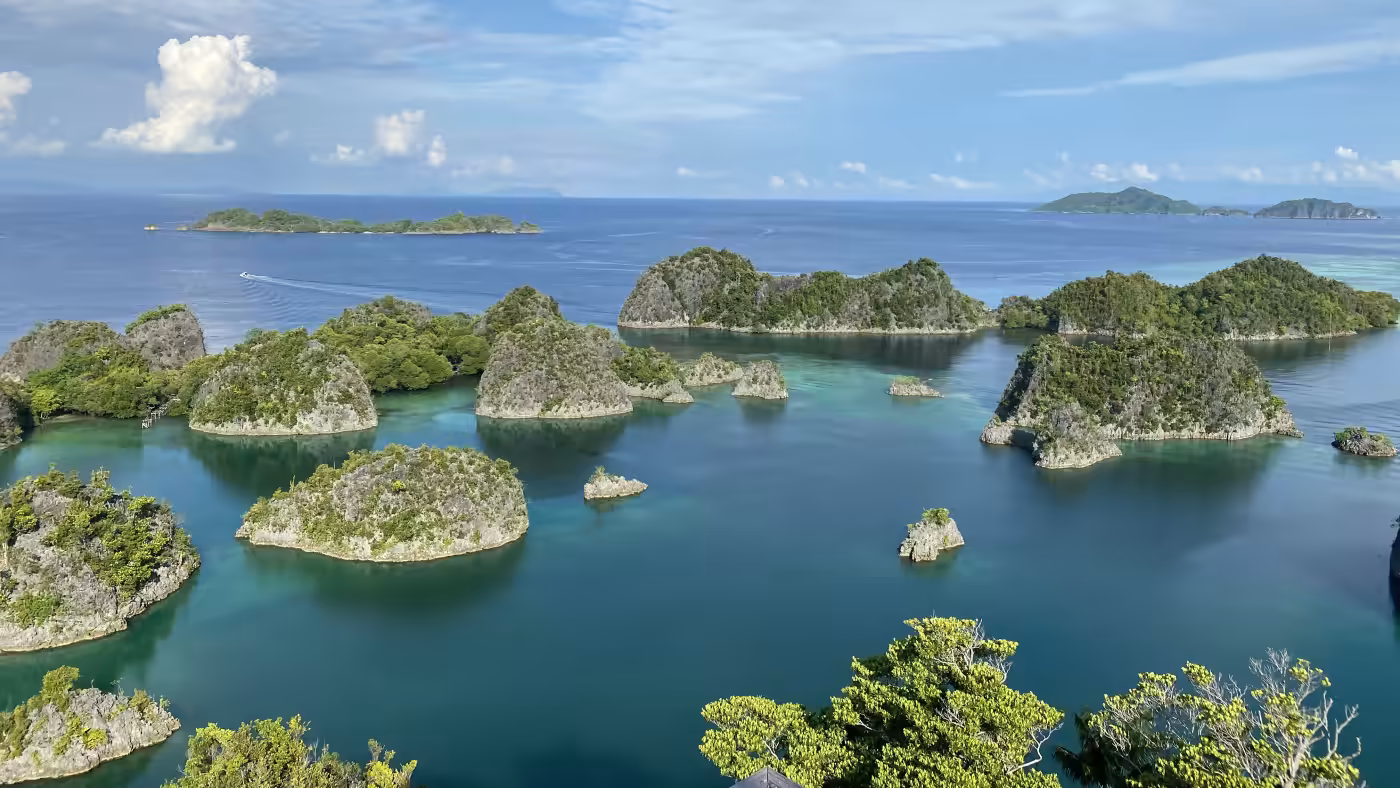 The view from the Piaynemo tourist site in the Raja Ampat archipelago of eastern Indonesia. (Photo by Randy Mulyanto)
RANDY MULYANTO, Contributing writer
RAJA AMPAT, Indonesia — The tourism industry in the coral-studded, flora and fauna-rich Raja Ampat archipelago of eastern Indonesia is counting on the end of travel restrictions to help put once-promising growth back on track.
Konstantinus Saleo owns the eight-room Dayan Homestay on the island of Dayan. Before the pandemic, the inn served 36 guests a week, with visitors coming from as far away as Japan and Western Europe.
Afterward, though, Saleo would often get one booking a month for rooms that go for about 400,000 rupiah ($28) per night. Three daily meals are included. He says many locals who ran homestays have returned to fishing to make a living.
"Indonesia opening [its borders and] tourists no longer [needing to] quarantine [has been] our biggest hope," Saleo said in the village of Yensawai, about half an hour from his homestay by speedboat.
The country last month lifted COVID quarantine measures for fully vaccinated visitors from overseas who also test negative for the virus upon arrival in Indonesia. This month it announced visa-free access for citizens from the other nine member states of the Association of Southeast Asian Nations, while allowing those from more than 30 other countries to be issued visas on arrival.
The challenge for Raja Ampat's future as a sustainable tourist destination is the preservation of what makes it unique: its natural beauty and diversity. To help achieve that, the Indonesian government is working with international financial institutions to preserve the environment there. That comes as the country has also received millions of dollars in private marine conservation funding in recent years, and has been carrying out a rehabilitation program for its coral reefs, which have long been under pressure from detrimental human activities such as the use of explosives to kill and catch fish.
Comprising the four major islands of Batanta, Misool, Salawati and Waigeo as well as more than 1,000 smaller islets, Raja Ampat is renowned for its diving sites, natural landscapes and rich marine ecosystems. It sits on the eastern edge of the world's largest archipelagic nation of over 17,000 islands and more than 270 million people.
The Indonesia Climate Change Trust Fund (ICCTF), under Indonesia's National Development Planning Ministry (Bappenas), last month invited Indonesia-based journalists to visit Raja Ampat on a government-organized trip to highlight the region and the government's coral reef rehabilitation and management initiative there.
In the years before the pandemic, Raja Ampat had seen an increasing number of tourists and income from environmental service maintenance fees the visitors must pay.
According to Raja Ampat's marine park management unit, in 2019 the archipelago recorded 24,131 international visitors and 3,056 domestic ones, who paid some 18.1 billion rupiah ($1.25 million) in those fees. But in 2021, only 1,050 foreigners and 618 Indonesians visited; they spent 984.7 million rupiah on the fees.
Part of Raja Ampat's allure is its relative remoteness. Flying to the city of Sorong — the main jumping off point for tours — from the capital Jakarta takes about four hours. Popular spots largely accessed by speedboat include the tourist site of Piaynemo, which offers a breathtaking view of rocky green islets floating in azure waters.
ICCTF Executive Director Tonny Wagey said international banks and other financial institutions over the past decade have been looking at marine conservation projects in Indonesia. Wagey said that the government "is looking for innovative financing schemes" to fully finance its marine environmental efforts and needs assistance via public-private partnerships, conventional loans and participation by states and institutions.
Konstantinus Saleo is hoping the scrapping of travel restrictions will boost his homestay business. (Photo by Randy Mulyanto)
The World Bank has provided the ICCTF with $6.22 million in grants from the Global Environment Facility (GEF), a multilateral nature-focused investment trust fund. Through the ICCTF, Bappenas used the grants to manage and support two nationally significant marine protected areas — Raja Ampat being one of them — under the third phase of the government-led Coral Reef Rehabilitation and Management Program-Coral Triangle Initiative (COREMAP-CTI) project that ended last month.
"The grants aim to provide support for initiatives such as small infrastructure for ecotourism, community surveillance against illegal fishing and the implementation of national plans of action for threatened species," a spokesperson for the World Bank in Indonesia told Nikkei.
The Philippines-based Asian Development Bank, meanwhile, has backed the COREMAP-CTI project elsewhere in the country. "Supporting Indonesia to improve its ocean health ensures the livelihoods, health, resiliency, and food security of millions of people in the areas," Jiro Tominaga, the ADB's country director for Indonesia, said in a statement.
"We must be smart to find some sort of funding breakthrough," Wagey told Nikkei in Sorong. He also said that the ICCTF is working on "developing a framework for blue bonds" — which are financial instruments for marine conservation — together with Indonesia's Finance Ministry and multilateral development institutions.
Sri Yanti JS, Bappenas' marine and fisheries director, said in a statement that for the development of a 700,000-hectare conservation area in 2020, the government budgeted less than a billion rupiah, 8.5% of what was needed. That same year, she said, the government earmarked 21.5 billion rupiah for the management of conservation areas. The outlay was 3.7% of the minimum requirement.
Speedboats like these docked in Sorong are the primary means of getting to and from the islands of Raja Ampat. (Photo by Randy Mulyanto)
Indonesia's total marine conservation area was 24.1 million hectares in 2020, and the country is endeavoring to cover at least 30 million hectares by 2030, Sri Yanti JS said. That would require about 2.25 trillion rupiah to ensure optimum management, or around 870 billion rupiah for minimum management.
Greenpeace Indonesia campaigner Amos Sumbung said more needs to be done to deal with coral reef bombing, garbage pollution, illegal fishing and rising sea temperatures around Raja Ampat.
Sumbung, who has a background in marine and fisheries resources management, also said tourism and other activities by people from outside the region have "damaged" the area. He called for the Indonesian government to further strengthen local communities, but said, "The people must be at the forefront to protect their area. They live there every day."
Raja Ampat might finally be seeing some light at the end of the pandemic tunnel. Freelance tour guide Aditya Dwi Saputra, who has been taking visitors to Raja Ampat since 2014, said numbers have started ticking up since around the fourth quarter of last year, mainly due to visitors from Jakarta and parts of Sumatra.
"We want tourism to be sustainable, not just for today and next year," Saputra said at a homestay on Misool island, adding he hopes visitors come often, but in small numbers.