ICCTF Roles and Commitment for The Prevention and Management of Land and Forest Fire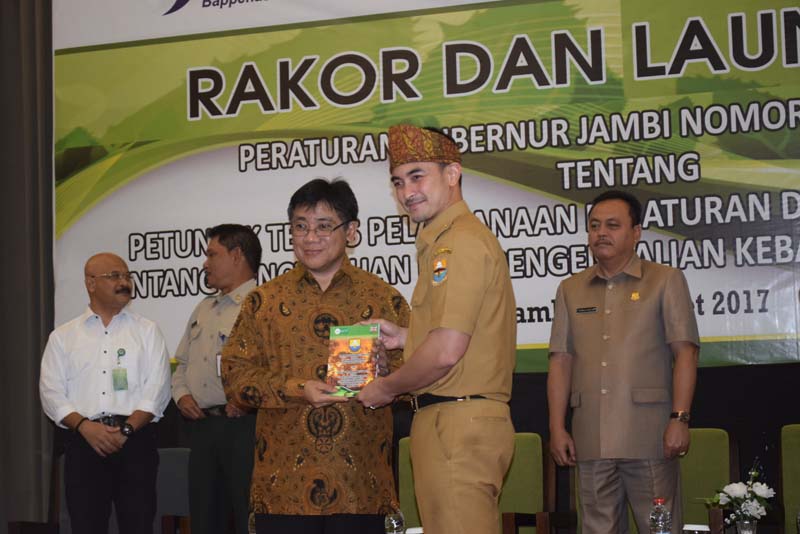 Indonesia Climate Change Trust Fund (ICCTF), together with United Kingdom Climate Change Unit (UKCCU), have encouraged the initiation of peat and forest fire prevention action plan by actively involved in the drafting process to the official announcement of Jambi Provincial Regulation 2/2016 and Jambi Governor's Regulation 31/2016. ICCTF and UKCCU build a cooperation within the framework of a programme entitled "Forest and Peatland Management to Reduce Emission in Indonesia through Local Actions" with a total funding of £ 3,000,000 to be implemented in 5 provinces covering Riau, Jambi, South Sumatera, Central Kalimantan and West Kalimantan.
The objective of this cooperation is to improve forest and peatland management through a direct collaboration with national and sub-national government, as well as to enhance fire prevention strategies and promoting community best practices. Its main target is to restore 26,167 ha area of post fire peatland and to reduce fire hotspots to 17,138 points. This programme is expected to bring impact for the responsive and accountable restoration of peatland and forest fire management in its five targeted provinces.
On 9 January 2017, based on the letter of ICCTF's grant programme funding approval 2017 No. 0147/Dt.3.5/1/2017, ICCTF has signed an agreement on self-management activity with Jambi Peat Restoration Consortium to implement a programme "Building of Sustainable Agriculture Model and Restoration of Post Fire Peatland Ecosystem Based on Land Use" with a funding of IDR 4,094,759,000 sourced from UKCCU's grant.
The programme duration is 11 months (February to December 2017) with a focus on location in Tanjung Jabung Timur District. One of the outputs of this programme is to support the implementation of coordination meeting as well as to launch local regulations so that the event become one of ICCTF's important contribution in national level in the prevention of forest and land fire. These local regulations using "zero burning" approach and become the first regulation in Indonesia that manage the prevention and control of peat and forest fire.
By actively involved in the initiation of the drafting and launching of Jambi regulations, ICCTF has shown its strong commitment in the effort of peat and forest fire prevention, mainly through programmes funded by ICCTF-UKCCU in the 5 targeted locations. The Government of Jambi Province is expected to oversee the implementation of these programmes to be in line with Jambi Provincial Regulation 2/2016 and Jambi Governor's Regulation 31/2016.  It is also in line with the commitment of ICCTF as fund administrator of Peat Restoration Agency (BRG) to support the national agenda and targets for the prevention of peat and forest fire.
Besides Jambi Peat Restoration Consortium, ICCTF has also funded 10 other institutions whose proposals have passed the selection, as follows:
| | | | |
| --- | --- | --- | --- |
| No | Institution | Programme Title | Location |
| 1 | Riau Women Working Group (RWWG) | Women's Group Initiation in Reducing Emission from Forest and Peatland Fires in Pelintung, Guntung, Mundam and Teluk Makmur, Dumai | Pelintung, Guntung, Mundam, and Teluk Makmur, Dumai District, Riau |
| 2 | Faculty of Fisheries and Marine Sciences, University of Riau | Peat Forest Conservation through Fisheries to Improve Livelihood in Sungai Tohor Village, Kepulauan Meranti District, Riau Province | Kepulauan Meranti District, Riau Province |
| 3 | Consortium of Yayasan Mitra Insani | Climate Change Mitigation through the Improvement of Stakeholders Participation in Forest and Peatland Management Based on Peat Hydrological Unity | Pelalawan District and Siak District, Riau Province |
| 4 | Consortium of Hutan Kita Institute | Establishment of Demonstration Plot and Peat Restoration Pilot in the Area of Post Fire Peat Swamp Forest as a Pilot Site for Program Priority Location of Peat Restoration Agency | Musi Banyuasin District and Ogan Komering Ilir District, South Sumatera |
| 5 | Consortium of WALHI South Sumatera | Protection and Management of Peat through Rural Ecological Scheme | Ogan Komering Ilir District, South Sumatera |
| 6 | Consorsium of WALHI West Kalimantan | Facilitation of the Rehabilitation of Degraded Peat Swamp Forest Area as a Result of Fires in 4 Districts in West Kalimantan Province | Kapuas Hulu District, Sanggau District, Ketapang District, and Kubu Raya District, West Kalimantan |
| 7 | Perkumpulan Pemberdayaan Masyarakat Dayak Pancur Kasih (PPK) Pontianak | Improvement of Land and Forest Management through Land and Forest Fire Prevention and Reforestation for Community Welfare | Ketapang District and Kubu Raya District, West Kalimantan |
| 8 | SAMPAN Kalimantan | Strengthening Community Participation by Optimizing Non-Timber Forest Products and Environmental Services in Village Forest to Restore and Protect Peat Ecosystem Sustainability of Bentang Pesisir Padang Tikar | Kubu Raya District, West Kalimantan |
| 9 | Consortium of Borneo Nature Foundation Indonesia | Protection and Restoration of Peatland in Sabangau, Central Kalimantan | Palangka Raya District, Central Kalimantan |
| 10 | Center for Land Fire and Forest Rehabilitation, University of Palangka Raya | Construction of Drill Wells and Fire Breaks to Prevent Peat Fires in Central Kalimantan | Pulang Pisau District, Central Kalimantan |
Forest and land fires are considered as ecological and humanitarian disasters that hit Indonesia in the middle of 2015. Based on data from WWF Indonesia, forest and land fires raises four major impacts as follows: (1) Lost and destruction of wildlife habitat; (2) Increased greenhouse gas (GHG) emissions; (3) Disruption of human health; and (4) state economic loss.
Community based fire management would be better directed to prevention activities rather than fire fighting efforts. The prevention of forest and land is an attempt to prevent or reduce the fire from the outside into the forest or land as well as limiting the spread of flames.  The fire occurred because the source of the heat ignited existing fuel and oxygen.
The "Zero burning" approach is one of the policies adopted by ASEAN countries in addressing cross-border haze pollution from forest and land fires. "Zero burning" is a method of clearing land by cutting down the tree stands in a secondary forest or adult plantation crops (eq: palm oil), then shredded into small parts, stockpiled, and abandons at the site in order to decompose.
Zero burning approach adopted in Jambi Provincial Regulation 2/2016 provides the following benefits: (1) An eco-friendly approach that does not cause air pollution; (2) Capable of reducing GHG emissions, especially CO2; (3) Biomass waste (organic material) of plant can be decomposed thereby increasing water absorption and soil fertility, reducing inorganic fertilizer needs, and reducing the risk of water pollution caused by the leaching of nutrients in surface; (4) Planting seeds directly on a pile of organic waste will increase agronomic benefits; (5) The implementation is not dependant on weather conditions; (6) Having a shorter period of land opened thereby minimizing the impact of run-off that causing land subsidence and pollution.
Aside from being the first province to implement "zero burning" approach, Jambi Province is also the first province that has completed the preparation of GHG mi